Trade Show Invitations Ideas
Trade Show Invitations
The importance of sending your VIPs personalized trade show invitations should not be underestimated. As a vendor participating in any industry trade show, you should already be aware of the expense associated with attending. With that in mind, your main goal should be to get people to your booth. More importantly, the buyers and people already interested in your product or service.
Creative Trade Show Invitations Ideas
When it's time to lure your high priority product buyers to your trade show booth, using innovative and creative trade show invitations will set your company apart from your competitors. Remember, most everyone else will be utilizing cookie-cutter invitations, ecards and digital invites sent via email. Others will use paper invitations physically sent in the U.S. post snail mail.
Thinking in-the-box, the Gigeo® invitations box, will get the attention of your buyers. Our invitations create a buzz and get them talking about you company, your product and your booth. Remember, at every trade show, companies and businesses across the nation to will be competing to show off their products services to many of the same people.
It's time to be creative, different and personalize your trade show invitations.
Need a creative trade show invitations? Watch this personalized invitation by James Bond, 007 (impersonator).
We use celebrity impersonators to create a memorable guest experience even before the event begins. 
Gigeo® personalized video invitations are special and unique. They increase guest engagement, get their attention, puts a smile on their face, and makes them feel special, important, and motivated to attend your special event.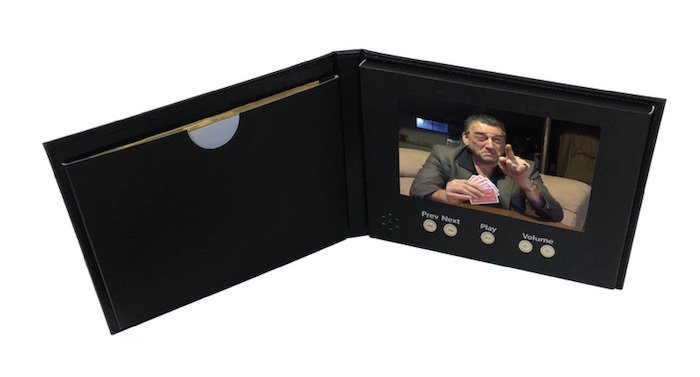 Premium invitations for event planners.
Sending our personalized video invitations is the easiest way to get more guests to your event.
Click here to learn more about Gigeo® personalized video invitations.
For Trade Show Venues Seeking Participants
Looking for invitation templates for a trade show? Below are some great trade show invitation wording templates to get you started.
Trade Show Invitations Wording Ideas
If your company needs publicity, it is best to participate in the annual [Name] trade show we plan each year in [Month]. Enter the show and bring everything you have!
Only at the [Name] trade show held at [Venue] can you drive your business development. For more comprehensive information, please contact us!
There are thousands of participants at the yearly [Name] trade show every day, so this is still the most reliable platform for you to display your goods! Be part of it.
We know the full assortment of goods and services you provide to consumers, which is why you should attend one of this year's trade shows.
The trade show planned next month requires your partnership. Visit the website to sign up!
The fantastic platform we provide you for your buyers is worthwhile. You must attend.
We are delighted to invite you to participate in this year's Home and Garden exhibition. We are doing our best to make it your most fantastic trade show ever!
You are recognized for your quality goods/services, and we are pleased to invite you to participate in the annual Wedding & Bridal show. Please contact our office for more details.
We are happy to have you advertise at our forthcoming restaurant trade show next fall. It is already known that many willing and anxious buyer will be there. Don't miss it!
Attention everyone. This month, we have transferred our exhibition to [Venue], and we hope that every company can participate with us at our new venue.
The absolute satisfaction of this trade show is the high quality and large-scale offering supplied by our sellers. If you think that you can provide clients with the same quality, then why wait? Contact us to participate.
We are delighted to invite you to participate in the [Year] [Name] trade show at [Location]. Your brand is innovative, creative and trendy, which is why we want to make sure you are there.
We are very honored to call on you to participate in the town's largest trade show on [Date] and [Location]. Please contact us to reserve a place in the exhibition.
This month's trade show will be the best yet! Please provide your products at the exhibition to show your support in the hospitality industry.
Let's all gather to guarantee that people in this town have an enjoyable time attending the trade show. Your presence is appreciated.
If you want to witness the greatest of the great, then there is no better spot to visit than this month's trade show. Please participate in the exhibition; the exhibition will run from [Date] to [Date].
With the rapid development of technology, the indisputable fact is that seeing each of them visually will be the best experience for everyone. Come and participate in this year's [Name] trade show.
If you miss out, you will feel regretful for a while because we are inviting some of the greatest names to show off their goods and services. I sincerely invite you to participate in the [Name] trade show and go all out.
There is only one event a year; do you genuinely want to miss it? We sincerely invite you and hope you can participate at the annual Hair Salon Industry trade show.
This year, the trade show will have some of the greatest companies worldwide coming to show off their newest products! It will definitely be worthwhile.
We know your agenda is hectic, but companies worldwide arrive to show off their years of effort and performance. Please come to the health care trade show.
Taking a few hours off during a hectic day can ensure that you see a wide variety of products at the trade show. We eagerly hope that you will participate in the trade show and see all the excellent new products and services.
The trade show is here! We hope you can attend. Please participate to show your support!
Do you want to know before everyone else what new products are launching? The Technology trade show guarantees to provide the most current goods and technologies services for exclusive testing! You need to participate in this event!
There has never been such a amazing opportunity! Show off your innovation and brand at this month's [Name] trade show and let the market know that your products are worth trying!
Showing unique products is the most beneficial thing you can do for your company. Our annual Apparel trade show guarantees to provide you golden opportunities to get your products and services out.
We have collected some of your favorite brands! Come and see the fantastic range at the trade show.
This is the official call to the yearly trade show. You can participate with us both as a company and as a consumer! We are delighted to invite you!
A comprehensive list of industry trade shows.
Consumer Fair
Arts & Crafts
Food & Beverages
Industrial Engineering
Entertainment & Media
Education & Training
Agriculture & Forestry
Fashion & Beauty
Business Services
Apparel & Clothing
Building & Construction
Auto & Automotive
Home & Office
IT & Technology
Wellness, Health & Fitness
Medical & Pharma
Industrial Products
Fashion Shows
Logistics & Transportation
Power & Energy
Sports & Sporting
Wedding & Bridal
Electric & Electronics
Auto Shows
Security & Defense
Travel & Tourism
Architecture & Designing
Environment & Waste
Packing & Packaging
Furnishings & Decor
Wine & Spirits
Veterinary
Gems & Jewelry
Baby, Kids & Maternity
Animals & Pets
Antiques & Philately
Science & Research
Toys & Games
Household Consumables
Cosmetics
Renewable Energy
Plant & Machinery
Marine & Boat
Meat, Poultry & Seafood
Minerals, Metals & Ores
Real Estate & Property
Tools & Equipment
Hospitality
Music & Sound
Horticulture & Floriculture
HR, Jobs & Career
Banking & Finance
Textile, Fabrics & Yarns
Print & Printing
Gifts & Gifting
Computer & Gadgets
Railway & Roadways
Furniture
Bakery & Confectionery
Chemicals & Dyes
Hotel, Restaurant
Petroleum, Oil & Gas
Automation & Robotics
Tea & Coffee
Advertising
Franchising & Retailing
Amusement & Attractions
Natural & Organic
Motorcycle & Bicycles
Miscellaneous
Air, Aviation & Airports
Fabrications
Paints & Coatings
Books & Publishing
Plastic & Polymers
Hospitals & Surgical
Aerospace
Drugs & Medicines
Knitting & Stitching
Leather & Leatherier
Telecommunication
Solar Energy
Consumer Appliances
Ayurveda & Herbal
Scientific Instruments