Halloween Party Invitations Ideas
Halloween Party Invitations
If the idea of ghosts or you are fan of The Walking Dead tv show excites you, putting on a Halloween party is probably your favorite thing to do. Starting your party off with out-of-the-ordinary Halloween party invitations will certainly get the attention of all whom gets invited.
Let's be honest. In relation to Halloween party invitations, professionals and non-professionals alike usually take advantage of standard invitations. These common invites include premium paper invitations, digital ecards, one fits all video invitations and boring invitation templates for inviting the guests to the Halloween party. As a creative event planner shouldn't you be thinking outside the box?
It's time to be different!
Creative Halloween Party Invitations
Regardless of whether it's an adult Halloween party or a Halloween party for kids or both, creative Halloween party invitations is a must! If you want an over-the-top Halloween bash, there is no better way to get the attention of your invited guest than a personalized video invitation by a celebrity impersonator. Think about Harley Quinn, The Joker, Wolverine or Captain Jack Sparrow or Rocky Horror Picture Show's Dr. Frank N. Furter personally asking each guest by name to attend the party. Any guest receiving such an invitation would find it extremely difficult to Not attend your party.
So, how can you up your creativity game and ensure you deliver something unique and original? Think Inside-The-Box — the Gigeo® personalized invitation box!
It's time to be creative, different and personalize your Halloween party invitations.
Need a creative Halloween party invitations? Watch this personalized invitation by Clint Eastwood (impersonator).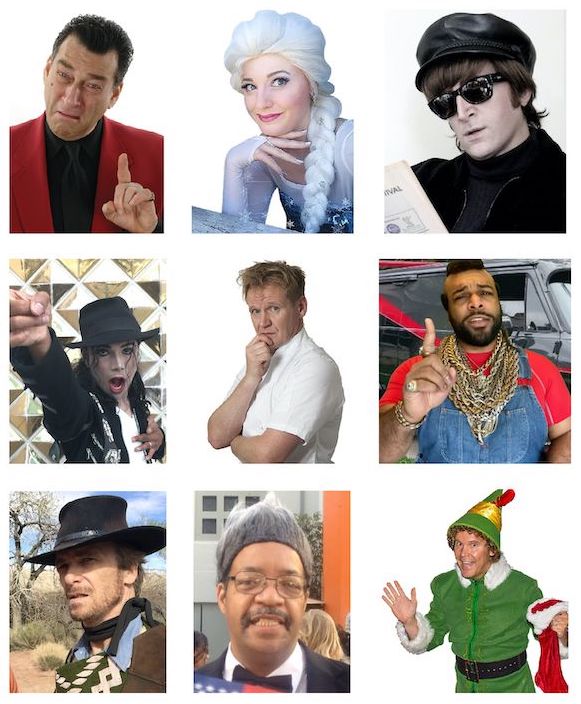 We use celebrity impersonators to create a memorable guest experience even before the event begins. 
Gigeo® personalized video invitations are special and unique. They increase guest engagement, get their attention, puts a smile on their face, and makes them feel special, important, and motivated to attend your special event.
Premium invitations for event planners.
Sending our personalized video invitations is the easiest way to get more guests to your event.
Click here to learn more about Gigeo® personalized video invitations.
Halloween Party Invitation Wording Ideas
Mark your calendar as 31 of October has been booked for a Halloween party. Pick up your scary dresses and join us for a night of drinks and food.
If you are a risk-taker and love being courageous, Halloween is your day. So, attend our dinner party and try out some amazing dishes.
All of us have been awaiting this night and Halloween is finally here. It is all about a lot of fun and spookiness. This year join us at [Venue] for a scary Halloween night.
We have planned an authentic Halloween party for the night of 31 of October. So put on your scary faces and join us at [Venue].
Prep yourself for my Halloween party this year and remember to grab the best costume you have because things are going to get exciting. The party is at [Venue] and we have a lot of fun activities planned.
Please come attend our Halloween party this year where we will be serving some amazing food. Do not forget to wear the scariest costume that you own before you knock on our door for trick or treat.
This is an invitation to all the little monsters as this year, for a treat, I'm hosting a great Halloween party at [Venue] on [Date].
Let's create some memories this Halloween at a party I am hosting. Drop by at [Venue] by 8pm and share some thrills with us.
This year we're making Halloween all about ghosts and spirits. Knock on our doors at 9pm and get lost in a world that can give you nightmares.
If you are in search of a ghost, come to my house on Halloween night. We promise you a lot of fun, so save the date.
This Halloween let us grab some cocktails at [Venue] along with some yummy food.
[Venue] has been booked for our Halloween party this year, so make sure that the costume is all set. We assure you it will be fun.
This year, 31 of October is not about being a couch potato. Instead, drop by my home on 31 of October to get creeped out in our Halloween party.
I am inviting the spirits and ghosts of the neighborhood to come attend my Halloween party that will surely spook you out. The party is scheduled for [Date].
Do you think you can dare entering my household on Halloween? If so, remember to push your fears aside. And be there by 8pm for the spookiest Halloween party ever.
Do you think you can dare attending my Halloween party? If yes, get a costume ready because 31 of October night is going to get crazy.
I am delighted to inform you that I am hosting a Halloween party on 31 of October at [Venue]. It will be a fun party with a lot of food.
We are hoping for your presence at our Halloween party this year. So don your scariest attire and wow us.
Wear your scariest Halloween costume this year and attend our fun party at night on 31 of October. The Venue is [Venue].
We challenge you to be the scariest person in the room this Halloween at the party we are hosting at [Venue]. Be there by 8pm.
Please join us on 31 of October night to engage in some Halloween madness. We promise, the party is going to be a lot of fun.
This is a great week as Halloween is all about scaring each other and enjoying some haunted experiences. Please join us on 31 of October for a fun night at [Venue].
Come by my house on 31 of October to enjoy a Halloween night party, which will be a lot of fun. My treat.
Gear up to attend my Halloween party this year on 31 of October. Note that creepy attire is a must. It will be a fun party where you will make a lot of memories.
Let us make some fun memories this Halloween at my party. Don a scary costume and drop by.
I decided that there is nothing children need more than a Halloween party this year. So, I have organized a fun little gathering. Join us on Halloween night.
This Halloween, I am hosting a small party at 3pm. Join us to enjoy a few thrills.
While parties need not always be fun, Halloween parties never disappoint. Join us on Halloween evening and engage in some fun activities.
I am hosting an extremely spooky party this year on October 31 of to celebrate my favorite holiday ever. Join my Halloween party by 8pm at [Venue] and remember that it might frighten you.
I am inviting al the ghosts and wizards in town for a freakish night. Join my Halloween party wearing scary costumes by 7pm at Venue.
Are you ready to take Halloween to another level? Then come join us at the Halloween party I am hosting on 31 of October. It is going to be a crazy night.
It is the night of witches and vampires and I am inviting all of them to the Halloween party that I am hosting at my house on 31 of October. Make our party more fun with your presence.
Wear your best costumes this Halloween and grace my party with your presence. Be there by 7pm.
It is the time to seek treats or tricks again. While I have no tricks, I do promise you treats at my Halloween party this year at [Venue].
Our Halloween party will surely frighten you this time, as we are hosting a haunted costume party. Drop by my house ay 6pm and get ready to scream.
Spells and incantations on you if you do not come to my freaky Halloween party tomorrow. Drop by my place at 7pm if you don't want to miss out on the fun.
Let the creepy gools take over my party this year by finding the best costumes. The Venue is [Venue] and the party starts at [Time].
It is the time to get scary as Halloween is here! The theme for my party this year is [theme] and it will be held at [Venue].
I am officially inviting you to what could possibly be the scariest party you have ever attended, to celebrate Halloween. Come to [Venue] by 9pm.
I am organizing a fun party this year for Halloween and your presence would be greatly appreciated.
How To Write A Halloween Party Invitation?
Are you planning a Halloween party? Whatever your reason for organizing a holiday party or event, you'll need to identify all of the important details. Once you are past the initial planning stages, all that's left is finishing the event planning and sending out the invites.
Sending party and event invitations is the best way to communicate to your guest what the event is about or what it is that you are celebrating.
Guidelines for Writing Halloween Party Invitations
The following guidelines are the basic questions you need to answer in your Halloween party invitation. This information can be outlined as the who, what, when, where, and why of the event or party.
Use the wording and design of your Halloween party invitation to tell the guests why you are throwing the party. For example, if it's for a birthday party, make sure to include who it's for and age they are celebrating.
Provide the name of the host for the event or party.
Tell the recipients what the party is all about and what to expect. This can include the description of your theme, activities, and any special requests of the guests.
State the date and time of your party or event. Always include the day of the week as well. For instance, Sunday, July 30, at 9PM.
Be clear on the location. Give the physical address and if off-site, also include the name of the venue and phone number for directions.
How to Write A Halloween Party Invitation – 9 Steps
1. Announce you are having a Halloween party.
2. Mention for who or what you are having the party or special event for.
3. Personalize your invitations and say it won't be the same without them.
4. Add detail about the party so that guests know when it is, and what to expect.
5. Let them know what to wear. i.e. cocktail dress, black-tie, business, casual, themed.
6. Include the venue name and address and other pertinent information.
7. Mention that food and drinks will be provided.
8. Request that everyone RSVP by specific date.
9. Tell them how to RSVP. i.e. phone, email, text message or snail mail.
Three essential things to consider for your event planning.
1. Event and Party Planning Goals and Objectives
The very first step when planning your event is to establish a tangible objective and goal.
Are you aiming to have an attendance of 25, 100 or 1000+ people? Are you organizing a summer event for a city or town? Are you raising money for a political campaign? Are you planning a 60s theme party for the office?
Example Objectives and Goals:
+ Expanding Cultural Perspectives
+ Selling Party Supplies
+ Renting Venue Space
+ Selling Real Estate
+ Increasing Tourism
+ Participation Objectives
+ Promoting Local Food Trucks
+ Increasing Brand Awareness
2. Budgeting for Your Event Ideas
+ Small Venues – Restaurant, Bar, Hotel, Ball Room, Brewery, Clubs, Art Gallery, Auction House
+ Large Venues – Stadiums, University, Hotel, Botanical Garden, Street Fairs, Museum
+ Venue Logistics – Permits, Insurance, Accessibility, Valet Parking, Contracts
+ Invitations – Gigeo® Premium Video Invites, Digital(email), Snail-Mail, Priority Mail, Postcards Invitations
+ Food – Food Stations, Pig Roast, Sit-downs Dinner, Donut Boards, Appetizers, Wine Bar
+ Drinks – Wine Tasting, Cocktails, Libations, Bartenders, Soft Drinks, Self-Serve Bars
+ Live Entertainment – Silent Auction, Celebrity Lookalikes, DJ, Ventriloquist, Concert, Photo Booth
+ Virtual Entertainment – Digital Auctions, Mini Masterclasses, Virtual Escape Room, Virtual Tours
+ Gifts / Giveaways – Headphones, Touch Screen Gloves, Premium Swag Bags, Beach Towels, Bluetooth Speakers
+ Décor – Props, Lighting, Backdrops, Theme, Flowers, Fabrics, Tables, Chairs, Balloons, Posters
+ Staffing – Security, Hosts, Outsourced Labor, Employees, Volunteers, Emcee
+ Marketing – Conventional Advertising, Influencer Shout-outs, Video Invitations, Social Media
+ Audio Visual – Video Cameras, Speakers, Microphones, Projectors, Big Screens, Lights, Still Cameras
+ The Unknowns – Even the best-planned event will have some additional expenses so don't get caught off-guard!
3. Publicity, Marketing and Promotion
+ Social Media – Facebook, Instagram, YouTube, Snap Chat, Twitter, LinkedIn
+ Press and Media – Radio, Write-ups, News, Sponsors
+ Influencers – Event Calendars, Newsletters, Announcements, Blogs
+ Printed – Flyers, Brochures, Postcards, Billboards, Signage
https://en.wikipedia.org/wiki/RSVP