Evening Gala Invitations Ideas
Evening Gala Invitations
When creating evening gala invitations, keep in mind that galas are typically high-end, luxurious and expensive parties. Invited guests will automatically assume to wear their fanciest ball gowns and black ties suits. Additionally, when a gala is being organized, food, entertainment and even silent auctions are known to be very high upscale.
How about we get to the point. When it comes to Evening Gala invitations, professionals and non-professionals alike almost always use standard invitations. These include luxury paper invitations, custom die-cut paper stock, digital ecards, one fits all video invitations and of course the mundane invitation templates. As a professional event planner shouldn't you be thinking outside the box? It's time to be different!
Creative Evening Gala Invitations – Get People Talking
Evening galas are one of the most glittery events of the year. With so many evening galas getting postponed or cancelled altogether due to current circumstances, there will be a multitude of events vying for the same guests near the same dates. The remedy to help get those invited guests to your event is being creative with your evening gala invitations. First and foremost, make your invitations different. Send invitations out that will be talked about and personalize your invitations for each and every VIP. 
Why are creative Evening Gala invitations so important? Because engaging your guest list with your important upcoming event is a must! It's true that guest engagement is the driving force behind you having a successful event, large or small. However, creativity is what will make it stand out.
There's just one more piece to this puzzle that makes all the difference in the world. Personalization! If you have ever received a hand-written invitation, the first impression you had was no doubt a sincere feeling of how much you mean to whoever is inviting you. When done correctly, personalized invitations create a buzz and a memorable experience, and, for business, personalized invitations make connections that positively impact any event.
So, how can you up your creativity game and ensure you deliver something unique and original? Think Inside-The-Box — the Gigeo® personalized invitation box!
It's time to be creative, different and personalize your Evening Gala invitations.
It's time to be creative, different and personalize your evening gala invitations.
Need a creative evening gala invitations? Watch this personalized invitation by Oprah (impersonator).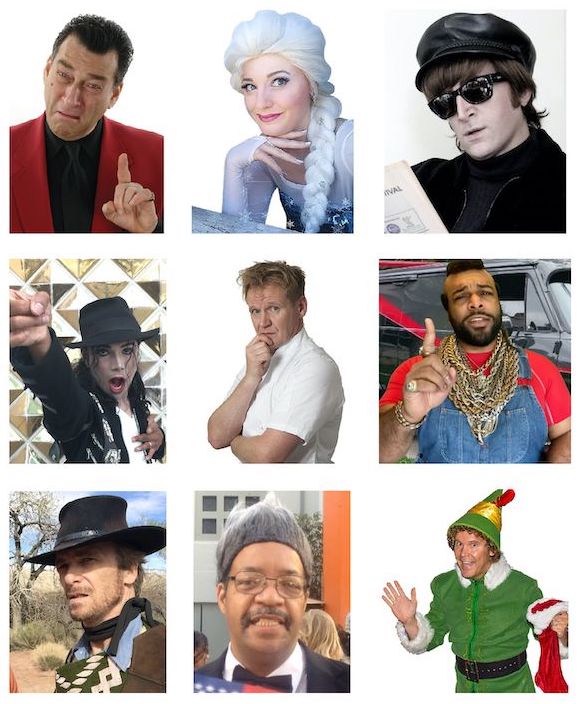 We use celebrity impersonators to create a memorable guest experience even before the event begins. 
Gigeo® personalized video invitations are special and unique. They increase guest engagement, get their attention, puts a smile on their face, and makes them feel special, important, and motivated to attend your special event.
Premium invitations for event planners.
Sending our personalized video invitations is the easiest way to get more guests to your event.
Click here to learn more about Gigeo® personalized video invitations.
Evening Gala Invitations Wording Ideas
We are delighted to host an evening gala on [Date] at [Location], come and enjoy the cocktails, dancing and silent auctions. We are excited to see you there.
We request your presence at the masquerade gala that [Name / Company] is holding on [Date]. We hope to see you and the spouse at [Venue].
Mark your calendar as [Company] has an evening gala planned for you and your spouse or significant other on [Date]. Your presence at the [Venue] would be greatly appreciated.
We are raising funds for the International Fund for Animal Welfare and we would appreciate the presence of you and your family during these celebrations. We request you to be there on [Date] at [Venue].
In support of [Cause], [Company] decided to host an evening gala scheduled for [Date]. We would be delighted if you could attend this event, which would be held at the amazing [Venue].
We would be grateful if you could grace our evening with your presence at the evening masquerade gala event meant to help Alzheimer's victims. Please do drop by at [Venue] at [Location] on [Date].
Once again, our Company is holding the annual evening gala held at the [Venue]. We look forward to seeing you there on [Date] from [Time].
[Names] are excited to inform you that they are all set to hold a gala evening on [Date] to support the child hunger epidemic. We expect to see you there at [Location].
On [Date], we have a night of music, dinner, cocktails and dancing planned for you and a guest. The gala will be held at the [Venue] from [Time] and we look forward to seeing you there.
The New York City women's society will hold a socialite gala night at the [Venue] and we request you to grace the event with your presence on [Date].
Every charity event that we have organized to date was successful because of your enthusiasm and support and hence, we would be honored if you could support us again on [Date], during our evening gala.
[Company] would appreciate your esteemed presence at this year's evening gala organized to help the [Foundation]. The event is scheduled for [Date], from [Time] at the [Venue].
Our company is lucky to have you and we would be delighted if you could attend our annually extravagant gala on [Date] held at the luxurious [Venue].
We are excited to invite both you and your guest to the evening gala, which is being hosted to honor the war veterans. Please do attend the event on [Date] at [Location].
You are very important to the [Cause] and we request you to grace us with your presence once again at the annual evening gala ceremony this year, which we are hosting at the glorious [Venue]. We are expecting to find you there on [Date].
Get ready to have the time of your life at our first ever evening gala scheduled for [Date] at [Venue] located in [City].
On [Date], [Name] will be hosting an evening gala benefit and we will be delighted if you could be one of the esteemed guests at the celebration to be held at the [Venue].
We are so happy to invite an esteemed personality such as you to partake in our annual fundraising gala event held on the [Date] at [Venue].
[Company Name] is excited to invite you along with a guest to our annual fundraiser evening gala dedicated to fighting cancer. The event will be held on [Date] at [Location] from [Time].
Our company is holding an evening gala at [Location] to help the cause of [cause] and we request you to attend it. The event will be held on [Date] at [Time].
We are delighted to invite you and a guest to our yearly evening gala aimed to help bring more awareness of climate change. The event will take place at [Venue] on [Date].
Galas are ideal events to engage in some fun while accomplishing something meaningful. This is why we hope you attend the evening gala on [Date] at [Location].
We cordially invite you to our annual fundraising gala that we organize to give back to the community. So please attend the event on [Date] at the [Location]
Please join us for a graduation gala night in the celebration of our daughter's achievement. We look forward to seeing you there on [Date] at [Location] from [Time].
[Name of Company] cordially invites you and a guest to attend the gala night that will be held at [Venue] on [Date].
Similar to the last few years, we require all your support for the upcoming gala that is being held for [Charity Organization]. Please join us in this worthy cause. The event is on [Date] at [Location].
On [Date], [Company Name] is organizing its annual evening gala to benefit needy children at [Location] and we hope to see you there.
We are delighted to invite you to our 10th Annual charity gala, scheduled for [Date] at [Venue].
This year, we have a Black-Tie Gala night planned for [Date], and we hope to raise funds during the celebrations at [Location]. We hope to see you there.
[Name] cordially invites you to attend their evening gala to celebrate their 25th anniversary on [Date] at [Location].
We are excited to invite you and a guest to the [Venue] for our yearly charity gala scheduled for the evening of [Date]. We look forward to seeing you there.
The 10th annual community gala would be incomplete without your presence. So, drop by at the newly opened [Location] on [Date] with a friend.
It is time for this year's annual Fall Gala, which we are celebrating on [Date]. Please attend the event to celebrate the onset of fall at the beautiful [Venue].
Let us make this winter easy to embrace with friendship, laughter, fun and the spirit of the season at our annual holiday gala celebrations on [Date] at the [Location].
How To Write A Evening Gala Invitation?
Are you planning a New Year's Eve party, casino event or maybe a sports theme party? Whatever your reason for planning a party or event, you'll need to identify all of the important details. Once you are past the initial planning stages, all that's left is finishing the event planning and sending out the invites.
Sending party and event invitations is the best way to communicate to your guest what the event is about or what it is that you are celebrating.
Guidelines for Writing Evening Gala Invitations
The following guidelines are the basic questions you need to answer in your Evening Gala invitation. This information can be outlined as the who, what, when, where, and why of the event or party.
Use the wording and design of your Evening Gala invitation to tell your guests exactly why you are throwing the party. For example, if it's for a birthday party, make sure to include who it's for and age they are celebrating.
Provide the name of the host for the event or party.
Tell the recipients what the event is all about and what to expect. This can include the description of your theme, activities, and any requests of the guests.
State the date and time of your party or event. Always include the day of the week as well. For instance, Saturday August 11th 2:00PM to 5:00PM
Be clear on the location. Give the physical address and if off-site, also include the name of the venue and phone number for directions.
How to Write A Evening Gala Invitation – 9 Steps
1. Announce you are having an Evening Gala.
2. Mention for who or what you are having the party or special event for.
3. Personalize your invitations and say it won't be the same without them.
4. Add detail about the party so that guests know when it is, and what to expect.
5. Let them know what to wear. i.e. cocktail dress, black-tie, business, casual, themed.
6. Include the venue name and address and other pertinent information.
7. Mention that food and drinks will be provided.
8. Request that everyone RSVP by specific date.
9. Tell them how to RSVP. i.e. phone, email, text message or snail mail.
Three important areas to think about for your event planning.
1. Party and Event Planning Goals and Objectives
The first step when planning your event is to establish a tangible goal and objective.
Are you aiming to have an attendance of 75, 150 or 500 people? Are you looking for unique entertainment ideas? Are you sending out invites for a product launch party? Are you having a restaurant grand opening?
Example Objectives and Goals:
+ Showcasing Local Arts and Crafts
+ Selling Party Supplies
+ Renting Venue Space
+ Selling Insurance
+ Attracting Out of State Tourists
+ Marketing Objectives
+ Promoting Local Restaurants
+ Increasing Brand Awareness
2. Budgeting for Your Event Ideas
+ Small Venues – Restaurant, Bar, Hotel, Ball Room, Winery, Clubs, Art Gallery, Auction House
+ Large Venues – Arenas, College, Hotel, Mansion, Street Fairs, Museum
+ Venue Logistics – Valet Parking, Insurance, Accessibility, Contracts, Permits
+ Invitations – Gigeo® Luxury Invitations, Digital(email), Direct Mail, Priority Mail, Linen Paper Invitations
+ Food – Multi-Course Dinner, Pig Roast, Donut Boards, Food Stations, Wine Bar, Hors D'oeuvres, BBQ
+ Drinks – Wine Tasting, Cocktails, Libations, Bartenders, Soft Drinks, Self-Serve Bars
+ Live Entertainment – Concert, Photo Booth, Silent Auction, DJ, Celebrity Lookalikes, Ventriloquist
+ Virtual Entertainment – Digital Auctions, Mini Masterclasses, Virtual Escape Room, Virtual Tours
+ Gifts / Giveaways – Phone Cases, Touch Screen Gloves, Luxury Swag Bags, Beach Towels, Bluetooth Speakers
+ Décor – Posters, Lighting, Theme, Fabrics, Chairs, Tables, Backdrops, Props, Balloons, Flowers
+ Staffing – Security, Hosts, Outsourced Labor, Employees, Volunteers, Emcee
+ Marketing – Social Media, Influencer Shout-outs, Conventional Advertising, Video Invitations
+ Audio Visual – Lights, Still Cameras, Projectors, Big Screens, Video Cameras, Speakers, Microphones
+ The Unknowns – Even the best-planned event will have some additional expenses so don't get caught off-guard!
3. Publicity, Marketing and Promotion
+ Social Media – Facebook, Instagram, YouTube, Snap Chat, Twitter, LinkedIn
+ Press and Media – Write-ups, Sponsors, Radio, News
+ Influencers – Event Calendars, Newsletters, Announcements, Blogs
+ Printed – Flyers, Brochures, Postcards, Billboards, Signage
https://en.wikipedia.org/wiki/Personalization
 Some of The Biggest Evening Gala Events of The Year
Make-A-Wish Hawaii's annual Wish! Gala – An all-white-attire affair, although its elaborate décor, flowers, cuisine and live entertainment. The highlight, though, may be the live granting of a "wish" to a critically ill child.
Leukemia Ball – Has amassed more than $65 million for the 70-year-old Leukemia & Lymphoma Society.
UNICEF Gala Chicago – Raises funds to support the work of UNICEF USA.
The San Francisco Ballet's Opening Night Gala – Patrons enjoy a cocktail reception and dinner under its elegant dome, then cross the street to a one-night-only performance in the equally elegant War Memorial Opera House.
Mack, Jack & McConaughey – Their fundraiser donates proceeds to community nonprofits involved in children's education, health and wellness. Includes a celebrity golf tournament, a fashion show and gala concert.
The annual amfAR Gala New York – Raises money for AIDS and HIV-related research, access to prevention and treatment.
Rainforest Alliance's Annual Gala at the American Museum of Natural History.
Auction Napa Valley. which supports 25 local nonprofits and strategic initiatives related to community. Health and children's education.
The HRC Chicago Gala & Auction is one of the largest LGBTQ fundraisers in the Midwest.
The New Orleans Jazz Museum's inaugural Improvisations Gala – Performances by Grammy Award winners and local jazz legends, an extensive silent auction, illuminated gardens and open-bar libations to pair with French, Cajun and Creole cuisine.
Atlanta Mayor's Masked Ball – A celebrity-attended fundraiser for the United Negro College Fund.
Virtual Diamond Ball – An Auction Benefiting Nicklaus Children's Hospital.
Greater Miami Jewish Federation – The Pacesetter Event is one of the most important yearly events for the Annual Greater Miami Jewish Federation/UJA Campaign, raising millions of dollars to support vital social services in Miami, in Israel and around the world.
Beaux Arts Ball – Guests will embark on a night of fantasy and philanthropy at the most anticipated costume ball of the year.
Illuminations Gala – Provides guests with an exciting evening honoring the people whose support helps further Chapman Partnership's mission every day.
Public Art Fund Spring Benefit – Aims to bring artwork that is normally confined to museums, galleries, and private collections to the public.
A Fool's Fête – An evening gala that contributes to the youth in foster care in New York.
New York City Ballet Spring Gala – The annual gala propositions to support the rich history and the bright future of NYCB and is attended by notable dancers and patrons of the art..
Matt's Promise Benefit Concert – A musical event organized to raise money for young people affected by the terminal illness, Duchenne Muscular Dystrophy.
Museum of Contemporary Art Gala – The MOCA or Museum of Contemporary Art is one of the most iconic structures of Los Angeles, a truly iconic institution that is visited by tourists and locals alike.
Caudwell Children Butterfly Ball – Founded by entrepreneur and philanthropist John Caudwell, the Caudwell Children Butterfly Ball is known for its celebrity guest list and excellent entertainment. Plus, all proceeds from the cause go towards helping children with disability.
Top 100 Galas in the United States
United Way Worldwide
Feeding America
Salvation Army
St. Jude Children's Research Hospital
Direct Relief
Habitat for Humanity International
Americares
YMCA of the USA
Boys & Girls Clubs of America
Compassion International
Catholic Charities USA
Task Force for Global Health
Step Up for Students
Good 360
Nature Conservancy
American National Red Cross
Samaritan's Purse
World Vision
Food for the Poor
Mount Sinai Health Systems
Lutheran Services in America
United States Fund for UNICEF
MAP International
Mayo Clinic
Cru
American Cancer Society
HealthWell Foundation
Doctors Without Borders USA
American Heart Association
Planned Parenthood Federation of America
Save the Children Federation
Entertainment Industry Foundation
Feed the Children
Catholic Medical Mission Board
Dana-Farber Cancer Institute
Patient Access Network Foundation
Make-A-Wish Foundation of America
Leukemia & Lymphoma Society
Midwest Food Bank
Catholic Relief Services
Shriners Hospitals for Children
Cross International
CARE USA
Christian Broadcasting Network & Operation Blessing
The Assistance Fund
Alzheimer's Association
Easter Seals
Convoy of Hope
Wounded Warrior Project
Goodwill Industries International
American Kidney Fund
Rotary Foundation of Rotary International
American Civil Liberties Union and Foundation
International Rescue Committee
Carter Center
Jewish Federation of Metropolitan Chicago
American Jewish Joint Distribution Committee
World Wildlife Fund
Matthew 25: Ministries
Marine Toys for Tots Foundation
Delivering Good
Cedars-Sinai Health System
American SPCA
Houston Food Bank
Public Broadcasting Service
Young Life
Memorial Sloan Kettering Cancer Center
Special Olympics
Heart to Heart International
Boston Children's Hospital
New York-Presbyterian Hospital
Wycliffe Bible Translators
Second Harvest Heartland
ChildFund International
Disabled American Veterans
UJA/Federation of New York
Environmental Defense Fund
Metropolitan Museum of Art
Population Services International
Educational Media Foundation
Combined Jewish Philanthrophies
City of Hope
Scholarship America
Michael J. Fox Foundation for Parkinson's Research
Robin Hood Foundation
Susan G. Komen
Teach for America
JDRF International
St. Mary's Food Bank Alliance
PATH
United Service Organizations
Smithsonian Institution
Metropolitan Opera Association
Covenant House
Father Flanagan's Boys' Home
Northern Illinois Food Bank
The Arc of the United States
Barack Obama Foundation
Humane Society of the United States
International Fellowship of Christians and Jews